CL offers four different plans to cater to your specific needs.
【Free Membership】
Guest members: Guest members may enjoy streams of live casts and free content.
Free members: In addition to the features available to guest members, free members are also allowed to follow artists and post comments.
Free PLUS members: In addition to the functions of the free membership, Free PLUS memers can enjoy some of the past programs that are available to paid members. To join, you will need to be connected to the fan club.
【Paid Membership】
※A monthly usage fee of 1,100 yen applies.
CL Premium members: In addition to the features available to free members, CL Premium members are also able to enjoy paid content.
CL Premium PLUS members: All features of CL are available to CL Premium PLUS members. You need to link your membership to a fan club to become a CL Premium PLUS member.
▼How to link with Fan Club
https://help.cl-live.com/hc/en-us/articles/4415778781209
Please refer to the following for more information on the features available to members under the different plans.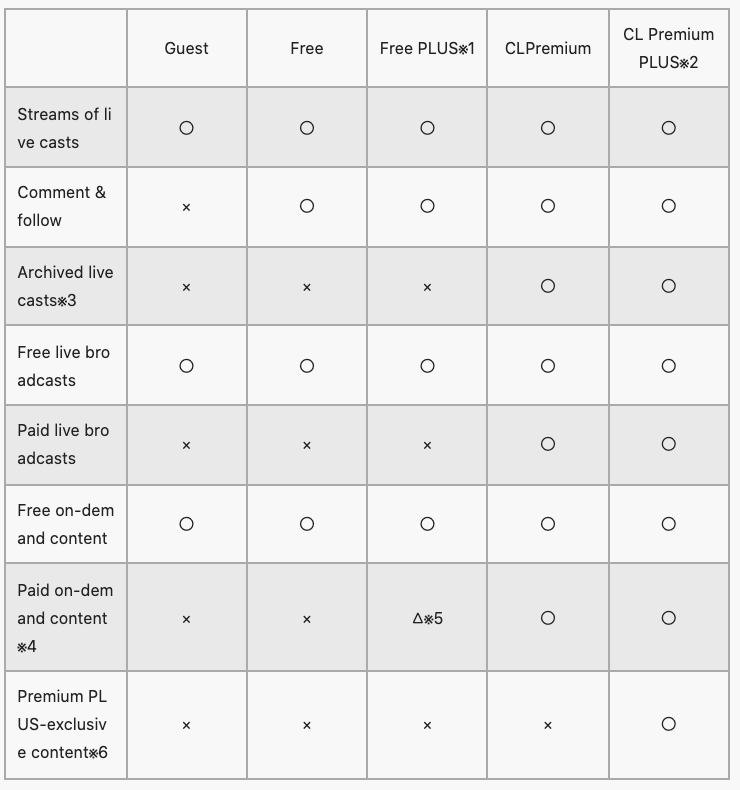 For more information on the different plans, please refer to: https://www.cl-live.com/plan
Please note that details of the plans may be subject to change without prior notice.

※1 Free members can switch to Free PLUS by linking with a fan club.
※2 CL Premium PLUS can be changed by linking your CL Premium membership to a fan club.
※3 Archived live casts may not be available under certain circumstances.
※4 Some CL Original Programs are available to Free Members and Free-Plus Members.
※5 Some of the paid on-demand programs can be viewed free of charge.
※6 This includes Reservation for Advance Ticket Drawing, TRIBE CALL, etc.